Finding the right place for all your tools and other common household items in the garage is not as easy as one might think. Doing hours of research only to return to the same mess you started with is a pretty discouraging way to start de-cluttering. This is why we looked at 6 different garage storage ideas for you, that will transform your garage from a dumping area to a functional, organized space. The actual legwork of decluttering might take up your weekend, but in the end, you'll know exactly what you have and where it is.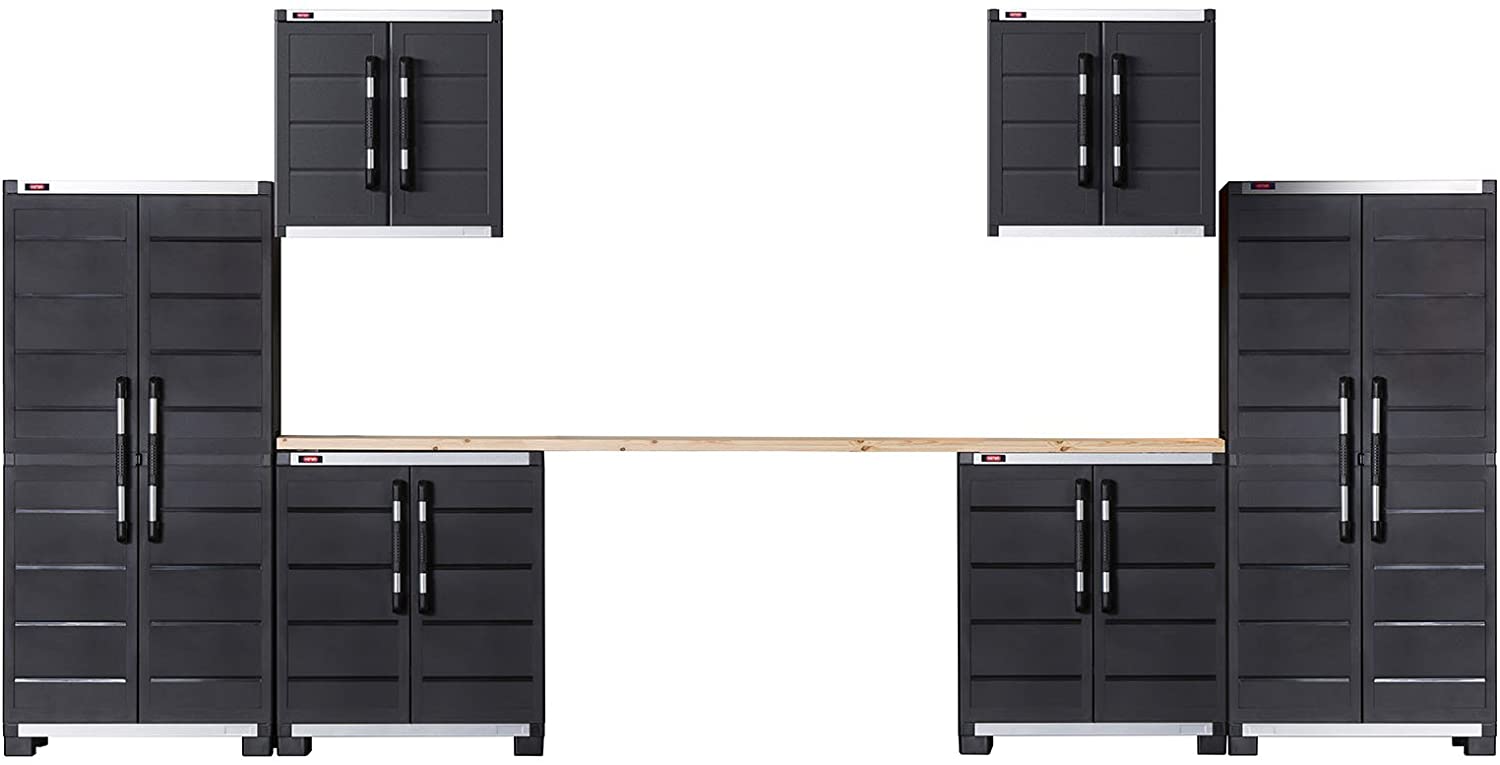 Organizing your garage is easy with solutions by Keter. Their Pro Garage System Utility and Tool Storage Cabinets boast a great look that will surely give a fancy, professional look to your garage. Aside from the great look, most other metal cabinets on the market have a problem with their thin construction, which makes them vulnerable to warping. Not this one. Each unit has a strong and damage-resistant build with metal reinforcements, yet the set is lightweight and easy to reposition. With their adjustable shelves for versatile storage and organization, it will be much easier to separate all your different tools and organize them according to your desire. This tall cabinet comes with adjustable legs and I love the fact that it includes a fifth centered leg for added stability. Basically, this means that you'll be able to load up your cabinet with up to 100lbs worth of tools and items. Sounds amazing! This set compares very favorably with the store brands you'll find at the big box stores, with the added benefit that all the cabinets have locking doors. This will be important to anyone looking for a set of cabinets that could lock up to keep little hands from getting to tools, paints, etc. Overall, this unit will meet the demands of both the occasional mechanic and general in-home storage.
Click the link to check out this cabinet set by Keter!
The design of the Hopkins Workbench and Shelving Storage System offers some big advantages. It makes it relatively easy to produce a straight and level bench on the first try since the pre-fab legs do much of the work for you. It's also extremely flexible and customizable. When you order this workbench you are actually purchasing the hardware (the four legs, which are a very heavy grade plastic, wood screws, hooks, and clamps). You must obtain your own wood. For example, to make a 6 foot by 2-foot workbench you'll need seven 96-inch long 2 x 4s, plus three 6-foot by 2-foot boards that serve as the bottom, middle and top counters. If you want, consult the chart on the manufacturer's website for the right size. The instructions that come with the set are very simple and consist of pictures that show the sequence for putting the workbench together.  If you're on your own I recommend positioning and holding the pieces of lumber to the legs with clamps while you are power driving the screws so that you're sure it is all reasonably straight and level. I would recommend this highly to anyone wanting a quick (basic build in about 2 hours) and sturdy bench. Place your various machines (miter saw, band saw) on top with confidence. Hands down the best system on the market for the standard homeowner that will provide many years of service.
Click here to check out the Hopkins Workbench and Shelving Storage System!
If you're wrestling with tons of equipment in your garage and have no space to hold all the extras, the Gorilla Grip Bungee Cord Garage Organizer will help tremendously. These 3 little magical cords are just plain awesome if you're looking to hang heavy stuff in your garage. They feel very sturdy and well-made, and the material is good. Upon purchase, you'll receive 2 small bungee cords and a longer one with different hanging points. I like the way the hooks offer several different ways to secure stuff. Quickly hang climbing ropes, extension cords, tools, bikes, or hoses without expensive systems. These tough cords with hooks can hang up to 50 lbs. Adjust or hook together to transport gas cans and keep cargo secure. They are very handy because they make it easy to find something to attach to, without installing mounts. Whatever you need these for, they will do that job. Simple, solid, and strong, just like bungee cords should be. All in all, this is a great home storage Idea, easy to use, and versatile.
Go check out the Gorilla Grip Bungee Cord Garage Organizer on Amazon!
This wall-mounted IBeaty Brush Broom and Mop Broom Holder will provide a great solution to clean and organize your garage, garden, kitchen, laundry, offices… basically everywhere you want. If you are fed up with tripping over piles of tools, or you want your cleaning supplies to be kept in one place then this is the perfect solution for you. It is strong, sturdy, long-lasting, and weatherproof. You are sure to love the easy release design as well. Simply by lifting the handle, the rolling balls automatically adjust to each handle's thickness and grip securely. So there is no worry that the tools will drop to the ground. The broom and mop holder is easy and fast to install. It mounts super easy and takes just 6 screws with anchors to ensure that it will be strong enough to hold whatever you want to place in the ball grips. This IBEATY holder is heavy-duty and well-constructed. Instead of having all your mops and brooms scattered throughout the house, you can now organize them in one place on the wall. That should help all your brooms last longer!
Buy the IBeaty Brush Broom and Mop Broom Holder from Amazon today!
If you have too much stuff and not enough place to store it then the Fleximounts Heavy Duty Overhead Adjustable Ceiling Storage Rack is just the right thing for you. This is one of those innovative garage storage ideas that will definitely capture your attention. It hangs from the ceiling so you'll be literally storing your things off the floor and onto the cool-looking ceiling storage rack. You can put quite a lot of bins and baskets in it and it does an excellent job of showcasing them as well. An added benefit is that you can hang stuff on it with hooks. Hang your bike, bags, kayaks, or whatever you have that's just laying around taking up floor space most of the time. When installing, make sure you have a good stud finder, drill with socket converter and chalk line. Expect 2hrs from start to finish assuming you'll have no other issues. This rack actually has multiple ways to be installed. This means you can choose to do it slightly differently than what the directions say depending on how your garage is arranged. Once installed, you'll notice that you can adjust the height of the rack in case you have to install it over a garage door. All in all, this is a great product and will definitely give you so much more usable space in your garage.
The Fleximounts Heavy Duty Overhead Adjustable Ceiling Storage Rack is available on Amazon today!
Is a need for toy storage ideas slowing down your garage cleanup?  Or, if you're still looking for ways to improve your entire house's storage situation, we keep all our favorites in one place. Just click either link to learn more!