What are the baby wraps? Why are the benefits of babywearing? How to choose and use your perfect baby wrap? Top 5 baby wraps to consider in your research.
 What does baby wear mean?
Babywearing is the practice of wearing or carrying a baby in a sling or in another form of carrier. Babywearing has been practiced for centuries around the world. In the industrialized world, babywearing has gained popularity in recent decades.
All of the parents know that there's nothing in the world that compares to having your baby in your arms – the feeling of a sleeping child against your chest is precious. And babies are the happiest when they are held by their mothers.
Many studies have shown that babywearing has many benefits for infants and young children as well as for the carrying parents. Here are some of them:
Babies who are carried are happier: It is known that holding a baby calms her down. And recent pediatric studies have shown that babies who are carried more often-cry less.
Babies who are carried are healthier: While a baby is in her mother`s arms, she is in tune with the rhythm of her breathing, the sound of her heartbeat, and the movements her mother makes. This gives her confidence and a sense of safety, and also to regulate her own physical responses. Many studies has shown that premature babies who are held gain weight faster and are healthier than babies who are not.
Babies who are carried are smarter: Babywearing helps the infant's developing brain make the right connections and enhances speech development. Babies who are held feel like they are part of every conversation their parents have, and this has a great learning value.
It is convenient for mothers and other family members: If your baby is one of those who wants to be held all the time, this is the perfect way to take care of her and, in the same time, do other things. Also, a baby wrap can be used by other family members and caregivers, and this is also a great way of bonding and getting to know each other.
Breastfeeding made easier: Holding helps some babies to breastfeed better. Also, babies who are slow to gain weight have been known to gain better if carried in a carrier for several hours a day, since proximity to mom encourages babies to eat more frequently.
How to choose and use your perfect baby wrap?
There are many types of baby wraps available on the market and all you have to do is find one that will meet your needs and preferences. What is the most important when choosing a baby wrap: keep in mind that it should mimic the way you naturally hold your baby. And here are some other things you should look for:
Material: Always look for natural fabrics, possibly 100% organic cotton. You need non-toxic dyes and materials that weren't treated with flame retardants or other textile chemicals. Your baby will spend a lot of time close to, or even chewing, the fabric, so it is important to choose the best one.
Comfort: The wrap needs to be comfortable for both you and the baby. It needs to be tight enough to hold the baby in the good position, but also make sure it is supported by both shoulders with wide straps- this is the best to prevent back problems for yourself.
Adjustability: Try to find a wrap that can be adjustable- this way it can also be used by multiple adults in the family who might have different weights and heights.
And now, let`s see our top 5 baby wraps that fit the bill. Hopefully, you will find the one perfect for you and your little one!
Boba baby wrap is made of 95% Cotton and 5% Spandex, it is stretchy and soft and very comfortable for both you and the baby. Also, it is free from any harmful dyes or chemicals. It includes an easy front and infant tying styles that suit the way you move. It makes breastfeeding easy and possible anytime, anywhere. It comes in variety of colors and patterns and is machine washable.
Pros: Light weighted, comfortable, durable.
Cons: The fabric is too stretchy.
Check out the Boba Baby Wrap here. 
This CuddleBug baby wrap is made of blend of French Terry Cotton and Spandex, and this guarantees hours of comfort and breathability, even in the summer. It is very convenient for traveling and breastfeeding. It comes in multiple colors and it can be a perfect gift for any parent!
Pros: Comfortable, practical, super soft fabric.
Cons: Doesn't stay in place, too much fabric.
Check out the 4-in-1 CuddleBug Baby Wrap Carrier here.
WeeSprout Baby Wrap Carrier is made of high-quality French Terry, a firm, tightly-woven 95% cotton and 5% spandex. It is suitable for newborns to 35lbs. Very durable and comfortable for both baby and the mother since it includes a support for baby`s head, neck and spin. It is machine washable and comes with an information dvd and a storage bag.
Pros: Good quality, comfortable and soft, fit to all sizes.
Cons: The material is not so strong.
Check out the WeeSprout Baby Wrap Carrier here.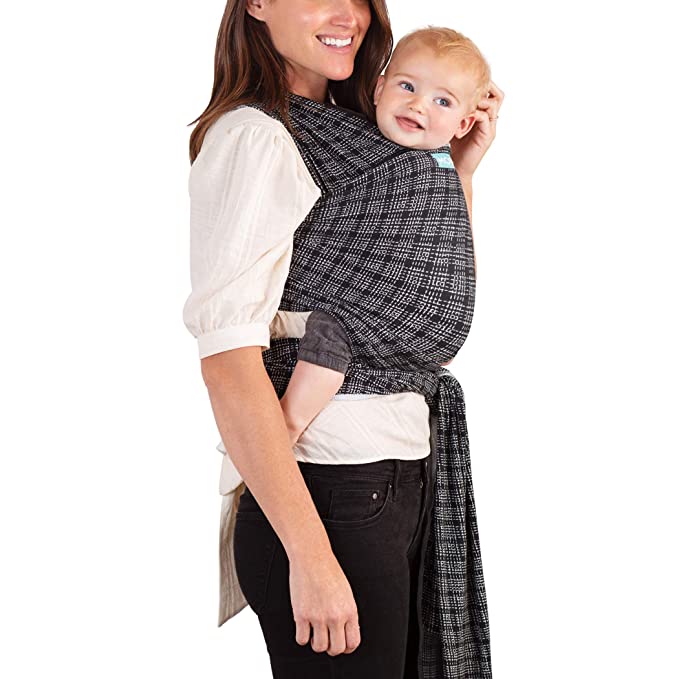 Moby baby wrap is the perfect solution for looking after your baby and bonding whenever you go. It is made of cotton and spandex blend and it is very stretchy and comfortable. Suitable for newborns from 7.5 to 35 lbs. It's strong but lightweight. Makes breastfeeding possible anywhere you go. One size fits all so other family members can use it as well.
Pros: Economical, stretchy, lightweight.
Cons: A bit complicated to wrap (the material is too long).
Check out the Moby Wrap Baby Carrier here.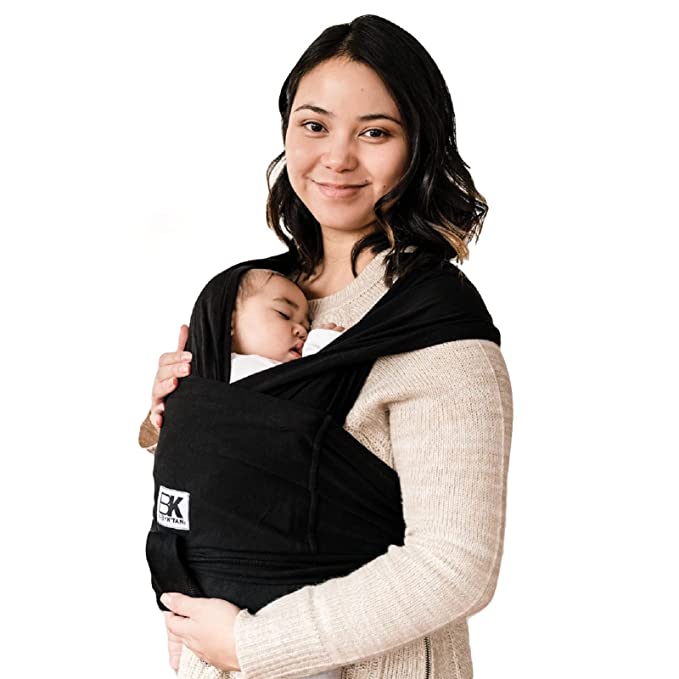 This baby wrap made of the best quality cotton available, and it is also completely chemicals free, so your baby will feel cozy, safe and protected no matter where you go. Also, the fabric remains highly breathable and lightweight which this wrap ideal for any time of the year.  It has an amazingly flexible design so that your baby can enjoy maximum comfort as it sleeps or while you're carrying it around.
It is easy to use and machine washable.
Pros: Supportive, soft material, easy to use.  
Cons: One size does not fit all.
Check out the Baby K'tan Original Baby Wrap Carrier here.
You must admit: babywearing is cool and cozy! We hope that we could help you with our selection of the best baby wraps available on the market. Enjoy your babywearing, your baby wrap, and remember: babies who are carried are happier!