Best 3D Printers To Start Creating
3D printers are revolutionizing manufacturing. They allow makers to create anything they can imagine, from business machines to toys. But where do you start? From the printing material to the print bed size, here are a few options to consider when purchasing your first 3D printer.
Dremel DigiLab: 3D45 3D Printer
The Dremel DigiLab 3D45 is a high-performance, economical 3D printer for enthusiasts and professionals. It features the patented Dremel digital level system for ultra-precise printing, a hot build plate for advanced materials, and clog-free 3D printing with its dedicated all metal extruder. The Dremel 3D Printer is one of the most advanced, reliable, and easy-to-use 3D printers out there. Get your prints off to an instant start with this pre-assembled plug-and-play system.
MakerBot: Replicator + 3D Printer
The MakerBot Replicator+ 3D Printer is the next generation of desktop 3D printing, created with performance in mind. The MakerBot Replicator+ is engineered and tested for reliable, faster printing. The Makerbot 3D printer features a 25% larger build volume, enhanced print adhesion, and more consistent geometry for concept models that look and feel like the real thing.
The Ultimaker S5 is one of the best 3D printers you can buy. It has all the professional-grade features you need, like an enclosed design (for better print quality), dual extruders, and a large build volume. Plus, it's easy to maintain and use. The Ultimaker S5 is built from industrial-standard parts, and its dual extruders allow you to print with two different colors or materials, such as PLA for a solid object and a heat-resistant material for support. A large build volume lets you print objects up to 12 x 12 x 13.9 inches in size. The Ultimaker 3D printer is an easy-to-use, dual-extrusion all-around workhorse that produces high-quality prints for both education and office.
R QIDI TECHNOLOGY: Large Size Intelligent Industrial Grade 3D Printer
R-QIDI TECHNOLOGY's 3D printer X-Max is equipped with two sets of extruders. One is suitable for printing plastic filament, the maximum temperature is 240℃, one can print high temperature material, such as carbon fiber. The double Z-axis structure ensures strong stability. It has the advantages of being highly precise and durable.
The Snapmaker 2.0 Modular 3-in-1 3D Printer unlocks your full creative potential, from 3D printing to laser engraving, cutting, and CNC carving. Smarter, faster, larger and more powerful than ever before, it is a new generation of 3-in-1 3D printer that comes with everything you need.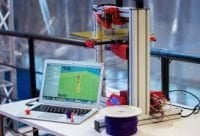 How much do 3D printers cost?
The average 3D printer made for consumers runs around $700. However the cheapest can be found for about $200 while the high end quality 3D printers used to cost upwards of $2,000. Today high quality 3D printers can be found for $1,000. If you are looking for a professional 3D printer it can cost about $10,000. When evaluating your options you will always want to know what your budget is and what exactly you want out of your 3D printer.
Where to buy 3D printers?
If you are looking for an up to date 3D printer that will ship fast, Amazon is the best place to buy. Amazon offers warranties and protection packages for their 3D printers to make sure you are getting the best quality. While Amazon is the most logical place to buy your 3D printer you can always buy straight from the manufacturer or other tech stores such as Best Buy.
How to make money with 3D printing?
There are plenty of ways to start making money with your new 3D printer. A few small ways you can start are making a youtube channel or renting your 3D printer for events. Once you get the hang of your printer you can start selling things you make such as keychains, jewelry, action figures or pretty much anything you can imagine. You can also start a 3D printing business in your area if you are looking to make more money. There are endless ways to start making money with your 3D printer; you just have to see what works for you.