There are so many different types of storage ideas out there – Closet storage, shoe storage, kitchen storage, wrapping paper storage – The list could go on forever! Luckily for you, we've taken the top storage ideas from all of our different storage posts and brought them to you in one place! There's no point in writing about good home storage without being organized ourselves, right!? Without further adieu, here are our favorite storage ideas that you can use all-around your home. Enjoy!
ClosetMaid makes a lot of different varieties of cube organizers, but this one is our personal favorite. It's very well-reviewed by over 4,000 customers, so you know the quality is going to be top-notch. You can set it up whichever way you like so that it can be 3×2 or 2×3. We like that some of the backs are covered and some aren't, so if you want to add any electronics to the setup you don't have to punch a hole through the back for a cord. Overall, this is an excellent product if you're looking for something sturdy, long-lasting, and versatile, without any of the expensive frills that you don't need.
You can find the ClosetMaid Cubeicals 6-Cube Organizer HERE on Amazon!
This is probably the coolest storage idea that we've found online so far. You can turn pretty much any wall into a full-sized closet! Now, there are probably places in your house you wouldn't want to put this. In front of the TV perhaps. And yours won't look like the one in the picture if you leave it super messy, overpacked with wrinkled clothing. But if you're the type of person making an effort to maximize your storage space, you're probably not having those problems. This piece is also incredibly sturdy, despite being pressure mounted with poles. Plenty of people have rated it 4-5 stars, so you know customers are pleased with what they're getting. This one is a little more on the expensive side, but how much would it cost to have an extra closet installed in your house? Much more than this does, that's for sure!
You can find the Prince Hanger Deluxe Pants & Shelf Hanger RIGHT HERE on Amazon!
We LOVE this sturdy 10 shelf shoe cabinet made of REAL WOOD, not some cheap laminate over plywood. That does make the cabinet a little heavier, but do you want a flimsy piece of furniture that's going to fall apart with a few uses? We didn't think so! You can fit 30 PAIRS of standard-sized shoes in this cabinet, which is perfect for all you Imelda Marcos wannabe's out there. There are also 2 sides to the cabinet, so if you have smelly sneakers on one side you can keep your nice dress shoes on the other without worrying about cross-contamination. The one knock on this product seems to be that it's difficult to put together, but there's a customer service number you can call and have them walk you through the process. One customer's dad was able to put the cabinet together for her no problem though, so if you've ever assembled IKEA furniture we're sure you'll be fine!
You can find the ioHOMES Darrion 10 Shelf Shoe Cabinet HERE on Amazon!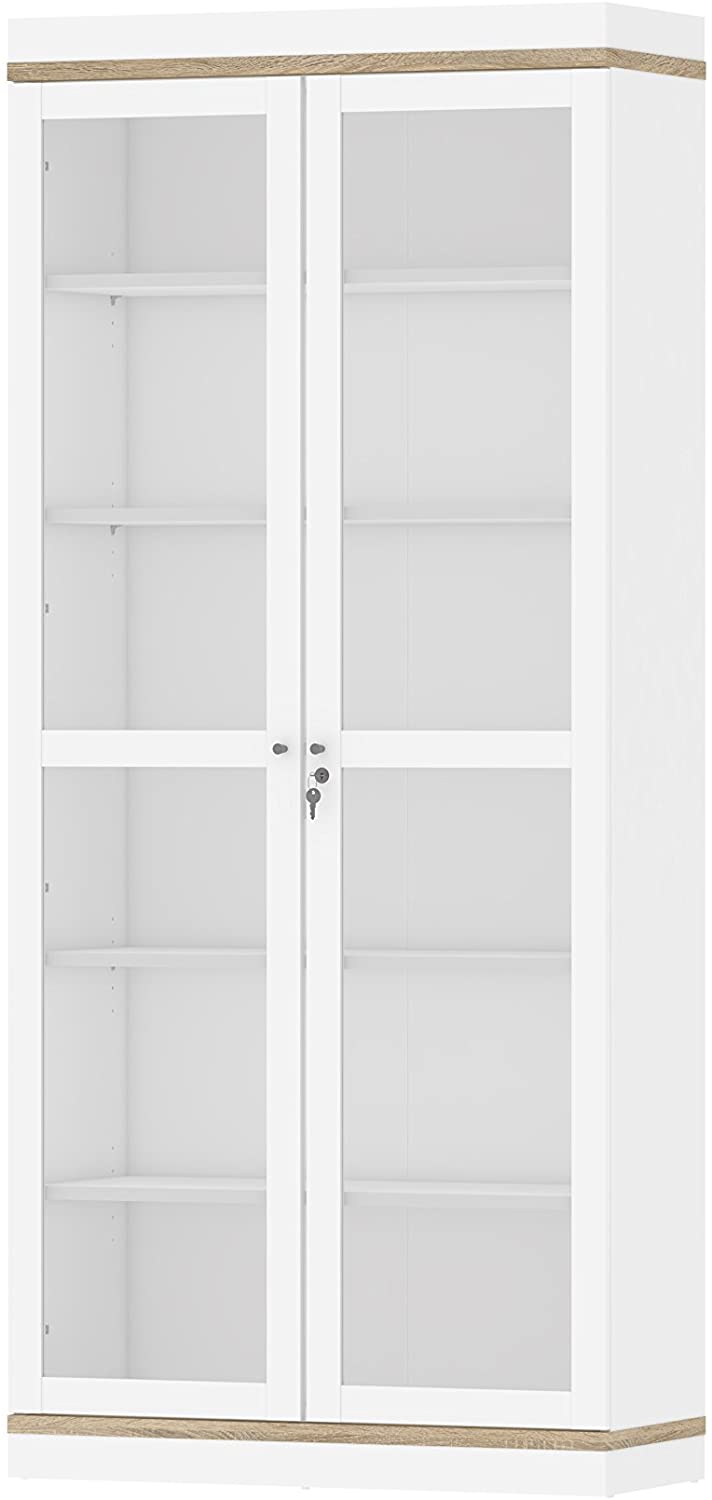 This is another one of those products where there's a little more than first meets the eye. At first, it just looks like a regular china cabinet. But once you open the doors you'll see there's much more to it than that. Two of the "shelves" are actually pull out drawers. ANYONE who's had to take out and put back the fine china for a dinner party knows how much having a pull out drawer would help. Instead of having to gently lift an entire stack of plates and slip it in just under the shelf above, you can simply pull out a drawer, place the plates down, and push the drawer back. Luckily we've never dropped an entire stack of plates, but this would probably prevent that even better! There's also a hanging rod for mugs, decorative towels, or whatever else you might want to hang in there. While this isn't the fanciest china cabinet out there, it does fit a sleek modern home much better than the old-timey ornate dark wood ones.
You can find the Tvilum Aberdeen 2 Door China Cabinet RIGHT HERE on Amazon!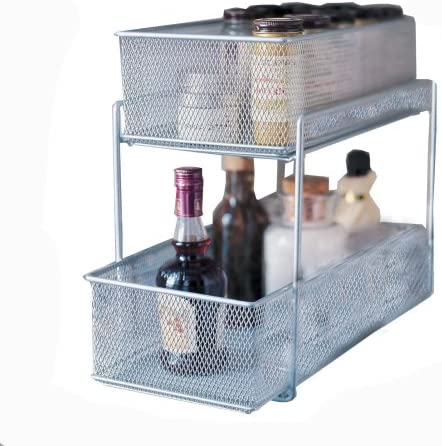 This is a versatile little item that you'll be able to find a place for in pretty much any room in your home. It's simple enough that its contents are really front and center. Do you need a compact spice rack? Done. What about a toiletries station in your guest room? Check. A place to keep the dog treats near the door? You betcha. It won't overwhelm the decor, and the price point makes it something you can buy 5 of to scatter everywhere. This is also a great gift basket holder for hand creams, small foodstuffs, or whatever else you're giving to your loved ones. As a nice bonus, the bottom drawer slides out, so you don't have to fumble around to access whatever it is you've left down there. This is a big downside of some other multi-tiered basket storage solutions, but Design Ideas has thought of everything!
You can find the Design Ideas Silver Mesh Cabinet Basket HERE on Amazon!
Maybe we love cubes too much. We can admit that. But at the same time, they are incredibly efficient as far as storage goes. If you add the fact that these are modular and thus can be added to whenever you like, this toy storage closet from LANGRIA is a must-have for parents who are sick of picking up after their kids. These cubes are very versatile as well. You can leave the translucent front doors open or entirely off if you want to display the fancy toys, or closed if you want to mask all your jumbled toy clutter. Another great aspect of these is how easy they are to put together. Don't they look exactly like the k'nex we all used to play with as kids? Being able to participate in the building process is going to give your child a sense of ownership over the toy storage, thus making regular clean-ups A LOT more likely. These are a must-have for parents with messy children, especially considering how affordable and durable they are!
You can find the LANGRIA 9-Cube DIY Organizing Closet HERE on Amazon!
If your husband hasn't started his tool collection yet, your first step is to run outside and thank the heavens! You see, we can tell you how this story goes probably 90% of the time. First, there's a cool project idea. It's something you want too, so you tell him to go for it. Well, he needs tools first! So you get him a nice set for his birthday, that says it has everything you need. Everything except for that ONE specific tool that is. So you have to get that too, but it comes in a pack with 4 other attachments you don't need now. So when he finishes the first project you have all these tools, and they're just wasted if you don't do any more projects with them right? Then he picks another project, but this one needs that OTHER tool that you don't have yet….. It's an endless cycle.
That's why something like this cabinet set from Keter is ESSENTIAL for keeping a clean garage when you have a handyman husband. For starters, since toolsets multiply and grow faster than rabbits, you're going to need a lot of space to keep the tools in, and the ability to grow if needed. Keter has you taken care of there. Beyond that, once your collection reaches that critical mass where you don't know where anything is anymore, you're going to need to keep it well organized. With the wide variety of drawer sizes and cabinet spaces, there will always be a specific place for everything.
You might take one look at the price and have sticker shock, but think about it this way. Having your garage professionally cleaned is going to set you back at least $100 per cleaning. If these Keter cabinets can keep your garage organized and clutter-free for just 2 years, they've already paid for themselves. And based on the reviews, they'll last A LOT longer than 2 years!
You can find the Keter Pro Garage Systems Utility and Tool Storage Cabinets on Amazon by clicking the link!
Keep checking in on our list of home storage ideas on this page, we'll keep updating it as new ideas roll in!